We do not begin as a SEO Company
Our clients from initial starting up years would have known that we have never intended to provide SEO services. At that point of time, our only known SEO success is for our own kids party photography brand, FlagAHero, which has been (and stilll is) the top ranking website for birthday party photographer related searches in Singapore.
During that time, when our web design clients asked us for help in SEO, we only did a simple sharing of our insights during training sessions. We don't believe in providing services that we are not confident of delivering.
We asked them to use their own discretion and engage other digital marketing vendors instead.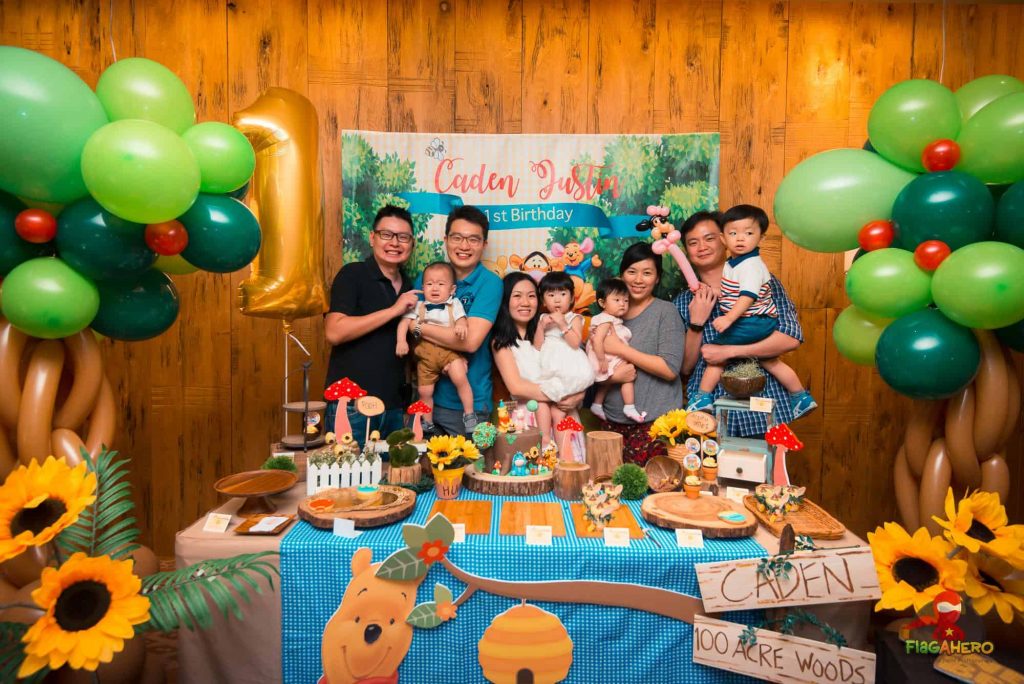 FlagAHero is our first SEO success. Our Principal SEO Consultant is also the #1 children party photographer in Singapore.
Too Many SEO "Experts" Who are Unwilling to learn
The problem was that, there were too many vendors in the market, motivated by the availability of government grants. They started to set up shops and called themselves digital marketing experts, SEO experts, SEM experts, social media experts, etc...
It was (and still is) very difficult for non technology savvy clients to discern which are the authentic ones and who are the quacks. If clients are able to discern, they may not need the services of others in the first place.
If you have been in a similar situation before, you would have understood that there are many smooth talking sales professionals out there who can promise you the sky. However it comes to skills and execution, they will still fail to perform.
If you need more resources on how to choose a good SEO company for your business, you can refer to the following links: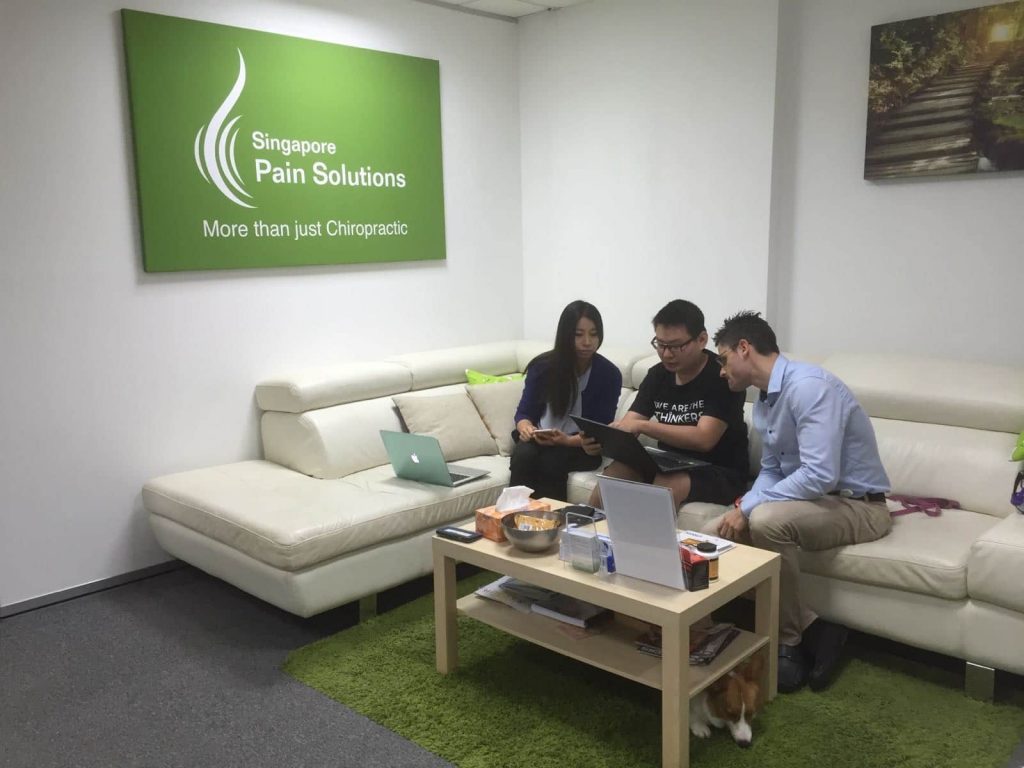 One of our first SEO clients, Singapore Pain Solutions has been a victim of crappy digital marketing vendors. Being a friend, we stepped in to help.
We finally evolved as a SEO Agency
In 2016, we took in our first batch of SEO projects, specifically 3 clients; in the chiropractic industry, car battery industry and the mover industry.
As all 3 of them, being in the B2C services markets, SEO is critical for their successes.
All 3 of them had bad experiences with other vendors.
Most importantly, all 3 of them trusted us enough to engage us as their SEO partner even though we do not have any professional SEO credentials at that time.
In around 12 months, towards the start of 2017, we are able to turn things around for them. Currently, all of them are leading the market in their own niches. They are now our proud SEO project showcases; you can read more about them at the case studies below.
In 2017, we took in 10 more SEO projects, thanks to the trust of our clients we met through referrals and our own SEO efforts. We are proud to say that, on top of web design services, Thinking Notes is now a digital marketing agency, offering exclusive SEO services for selected clients.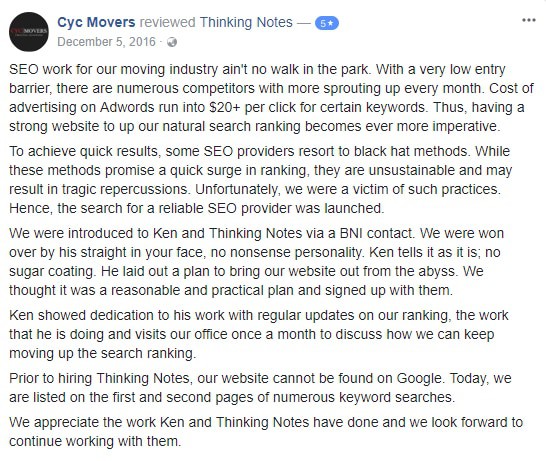 A heartfelt review from CYC Movers, another one of our initial SEO clients who we have helped to overcome many challenges.
Good SEO is not just about keyword rankings. It is about delivering valuable content to match searches in the right context. It is about increasing organic traffic and ultimately the profitability for our clients.
Good SEO requires a team with diversified capabilities in writing, creativity, technical development and marketing psychology.
We pride ourselves as one of the forerunner of SEO methodologies. We refuse to believe that SEO is as simple as increasing backlinks and inserting keywords. Every SEO client is different and has different challenges for us to overcome.
It is important to note that as our services are highly exclusive, we only provide SEO services for 1 client per industry niche per geographical location.
To find out more about our rates & processes, get a personalized consultation from our Principal SEO Consultant by sending in an enquiry.
The list below is simple a rough indication of the scale and depth our team go into, to improve the SEO of your business:
Why choose Thinking Notes as your SEO Team
Frequently Asked Questions about SEO
SEO stands for Search Engine Optimisation. It is the process of optimising your website for maximum visibility and obtaining organic traffic (targeted visitors), through their search terms
It is important to know that search engines like Google will eventually evolve to become an artificial intelligence powerhouse that can match highly relevant information to searchers based on the thought process behind their search terms.
This can be signaled through the keywords they enter into traditional search engines or voice search through assistant apps.
Yes, the MRA Grant by IE Singapore can be used as a leverage for SEO Services. However, you must be targeting the overseas market. Please find out more at their site. We do not help our clients to apply for grants. However we can recommend a trusted contact for these services.
Yes, we usually require our clients to commit at least 6 months when engaging our SEO Services. SEO is a long term game, you will not be able to see significant results within a short period of time.
No, we do not guarantee top SEO rankings. In the SEO industry, it is not ethical to promise SEO rankings. You can read more about it at Moz Blog, a very reputable global SEO authorit
Digital Marketing is about approaching 2 types of information seeking behaviors. SEO is about targeting people who already know what they want and they are searching for the best vendor to procure the services or products. If this is similar to your trade, then you will most probably need SEO. You can read more about this topic at our article, "Do you need SEO?"
In the industry practice, SEO requires a monthly retainer fee. It can range from few hundred dollars to few thousand dollars. From our experience, it usually ranges from $500 to $2000. Of course, there can be extreme cases.
Learn More From Our Case Studies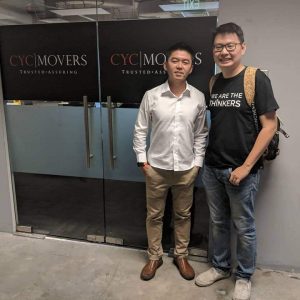 CYC Movers is our third client and has been with us for more than 2 years. Before they got to find out about Thinking Notes, they engaged an SEO company that focused solely on creating
Read More

→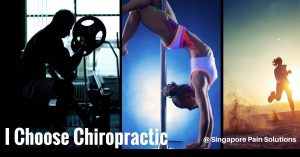 The Early Days of Singapore Pain Solutions Singapore Pain Solutions is a chiropractic practice in Singapore  that focused on delivering professional chiropractic treatments services for patients suffering from various pain ailments. Dr Jenny, one of
Read More

→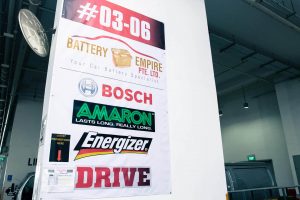 Find out how our seo consulting services help Battery Empire, a car battery vendor in Singapore to improve their SEO rankings from page 7 to page 1 and scale their business significantly.
Read More

→