What is Google My Business?
To find out how Google My Business works, first you must know what is it.
First and foremost, Google My Business is a free web application that allows you to publicize your business profile on Google Search and Google Maps.
This is very much like a type of Facebook Page.
With Google My Business, business owners like you and us, can connect with your customers, update your business profile, and see how your customers are interacting with your business.
When users search for your brand in Google Search, by having a Google My Business profile, on top of the organic search results,  your company will also appear on the side of search results and map listings as well.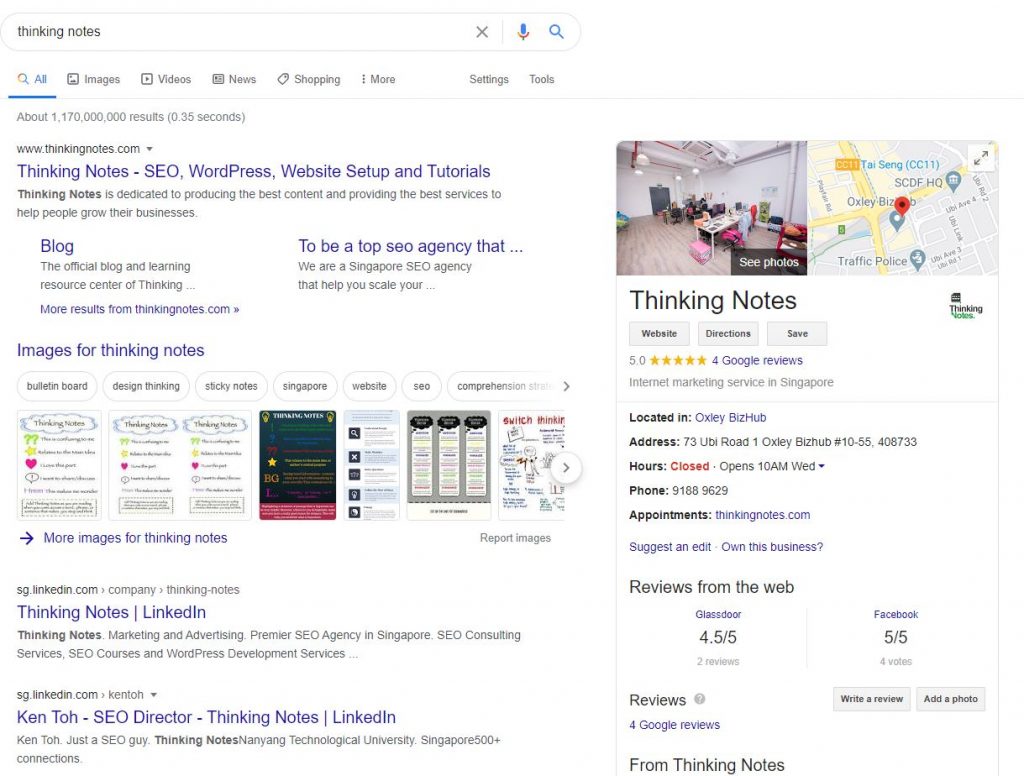 This increases your overall visibility and potentially helping your SEO results.
How Google My Business works: Getting Started
Part of discovering how game-changing Google My Business works for SEO and marketing products is to find out how this app matters to users and business owners alike.
You will only need a Gmail account to sign up, verify your business location to establish your digital presence.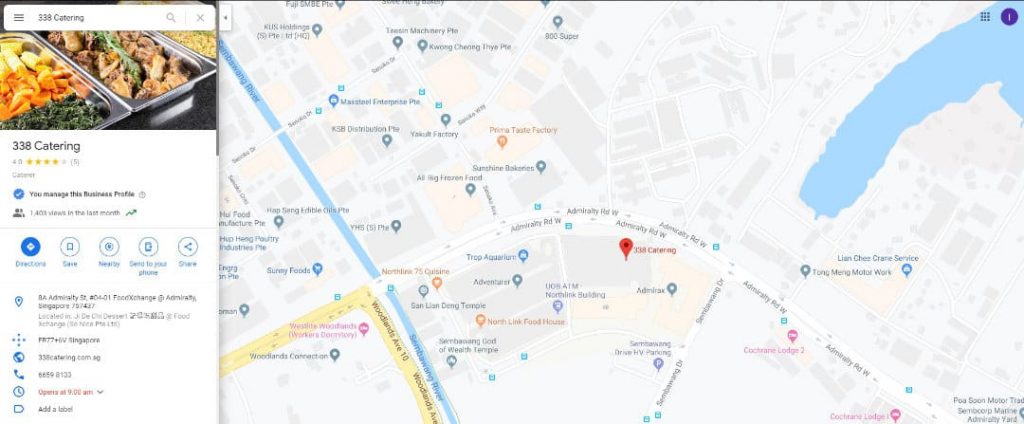 This is an illustration of how a business profile will look on your GMB account. You will be able to edit the relevant information of your business whenever necessary.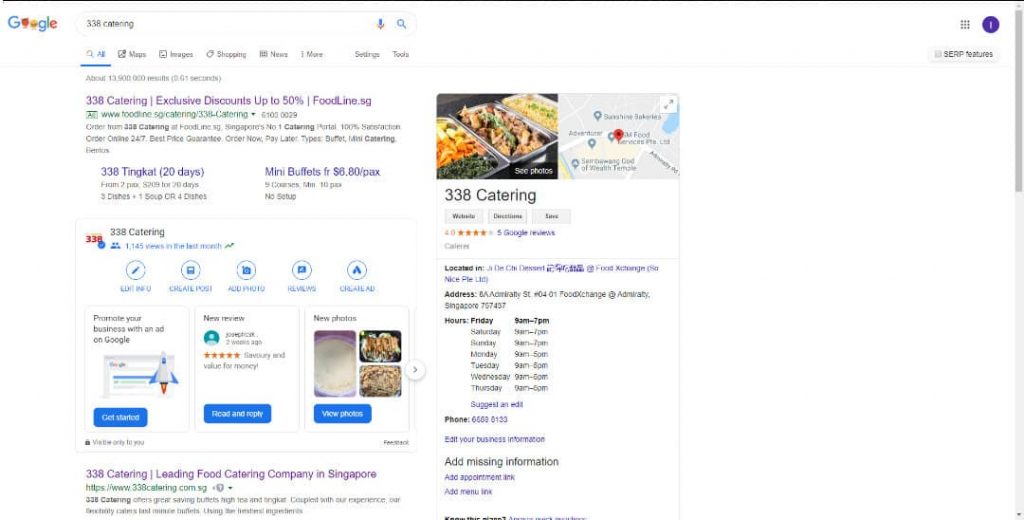 On Google Search Engine Results, you will be able to view the mini dashboard that is only visible to you.
You can see the number of views within a month range.
The mini dashboard gives you direct access to perform key actions, such as edit information of your business, creating posts to inform your customers about special events, promotions, and products, as well as creating an ad to promote your business.
If you are new to Google My Business and want to find out how you can set it up, you may view this video:
Improve Visibility and reach out to more customers with Google My Business
Having an account in Google My Business has a boosting effect on your presence on Google Search Engine. This can be explained by 2 factors:
Better Local SEO
With Google My Business, you will have a chance of appearing on Google's local 3-pack, helping you with local SEO.
This refers to the SERP (Search Engine Results Page) feature that shows a map and display places related to your search as well as a list of 3 businesses with their name, address, and phone number.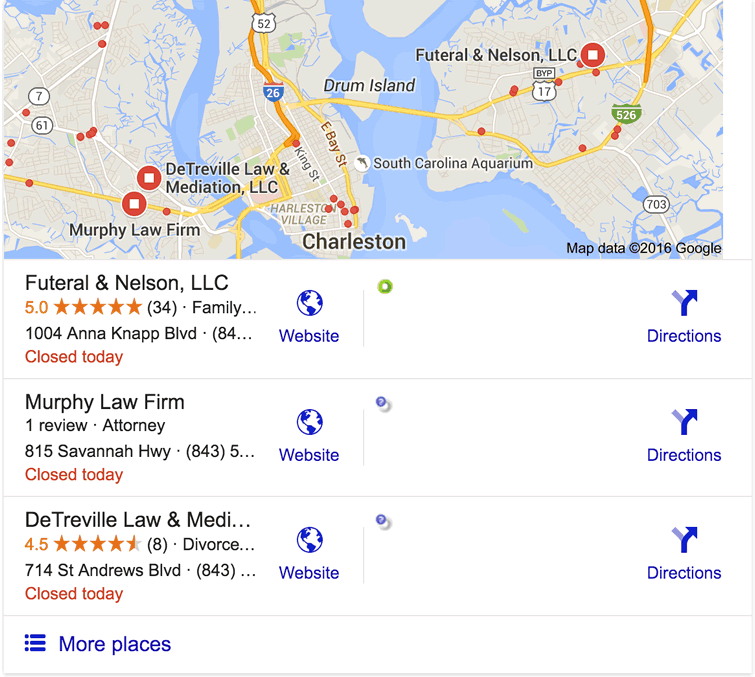 Source: Website
The screenshot above shows how local 3-pack looks like when a user searches for a business.
Of course, you will have to work to increase your chances of appearing in the local 3-pack.
Relevance is the key to doing so.
You will, therefore, have to ensure that your company's name, address, and phone number are accurate and correct (Google places huge importance in this).
Try to get your customers to leave good reviews in your GMB's account.
If you work on your organic SEO and online authority, your business will be more likely to appear in the 3-pack results too.
Better Visibility on Google Maps
If you are running a location-sensitive business such as a dentist or car workshop, visibility in Google Maps is very important because consumers tend to gravitate towards nearer locations.
If you have a verified Google My Business account, your chances of appearing on top of Google Maps will be higher from searches done by people in the vicinity.
Besides being an online map, Google Maps has improved in leaps and bounds over the years.
Creating itineraries, saving locations, reviewing stores and locations, having previews through user shared photos and satellite views are a few touches away from your smartphones.
As it continues to integrate into people's needs, it also takes the form of an online information concierge fronting stores globally.
Where to eat?
Search for 'good restaurants around you' on your smartphone.
Whether it be lunch or dinner, the search results will list a number of restaurants nearest to you on the Chrome browser.
Clicking on the listed choice, it seamlessly transfers you onto similar Google Map UI, showing that business profile with information and reviews to check it out.
By having a Google My Business account, you can check how often your profile has been viewed through your Business Profile on the GMB dashboard.
Profile View Insights is often used to see how popular your business is with current and potential clients.
You can track your Profile View Insights on your business profile under the "You Manage this Business Profile" section.
For a more practical understanding, we provide an illustration of 338 Catering's GMB account. According to data, Google showed that 338 Catering has garnered 1,403 views for the past month (September 2019).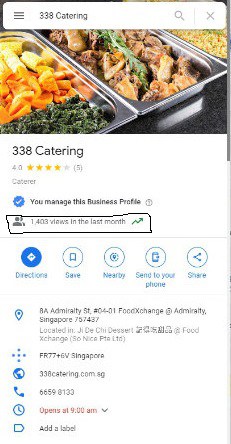 Increase Credibility with Business Reviews
Having good reviews (and testimonials) is crucial for you to establish initial trust with your potential clients.
When your business is listed in Google My Business, Reviews become an available space for your clients to leave their experience.
These experiences will be displayed in the search results. Consumers will find it easier to trust testimonials displayed on neutral platforms like GMB, over testimonials displayed on your website.
Reviews help users to manage expectations, though they may come across fake reviews or negative reviews.
You will be able to address your clients directly and rectify their issues where necessary.
At the same time, initiating to resolve the issues, or saying thank-you to appreciate them, actually provides a sense of genuine human touch.
This will signal trust and responsibility.
This way, your potential customers will have a better impression of your business and set a more realistic expectation when they come to you.
With reviews, your customers can weigh the quality of the business, allowing them to make informed decisions and avoid engaging dubious businesses.
New Features Released by Google
"Request a quote"
"Request a quote" extends a business's reach to their clients and responding ahead of their competitors.
Instead of users going through different chat applications, emails or calls to reach business owners, they can simply connect with the business via on-page search results immediately.
When the user sent the messages and the request through "Request a quote", the business will receive the message through Google My Business mobile app (mobile only).
This "Request a quote" is particularly helpful for owners who run a business alone as the business can handle the specific request immediately via Google My Business mobile app.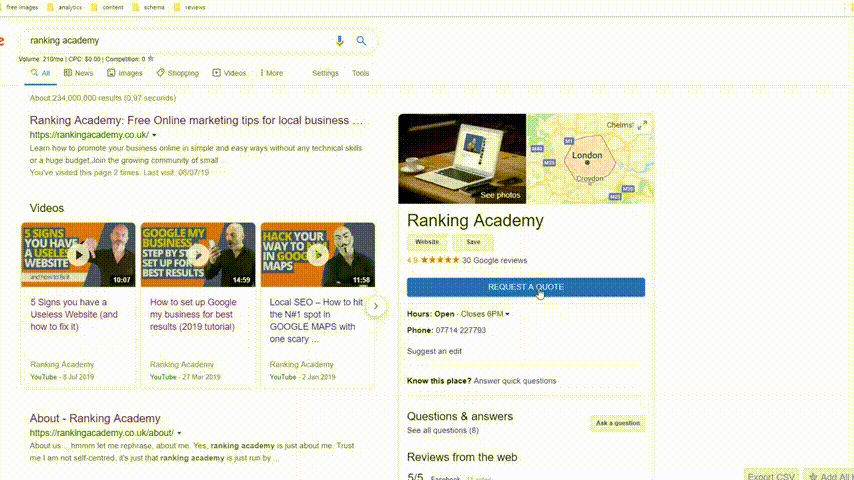 Based on the example above, prospective owners can contact them directly via the "Request a Quote" function.
You can either request a quote, as the function suggests, or even enquire about the services they offer.
"Ask a question"
The customers can clarify any doubts they may have in regards to your business with the new "Ask a question" function.
This is an important reason why you will not want to ignore GMB as a whole because it gives you an opportunity to interact with users directly.
Questions asked are often very specific. Answering them may potentially lead to a new sell or getting a new customer.
When typing solutions to answer the questions from users, answers, from previous answers and Google posts published previously on your listing, are suggested to the enquiring users.
The gif below shows an illustrated example of how this will look like.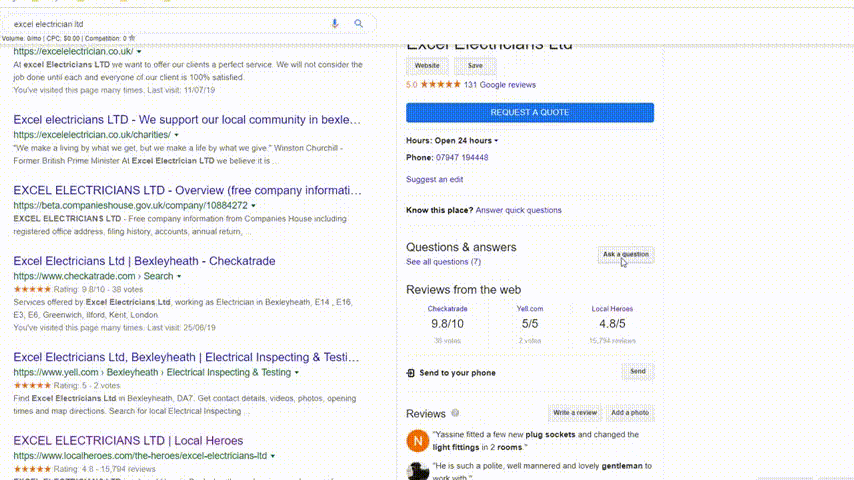 To ensure that GMB works well for you, you will have to create Google posts regularly that are relevant and useful to your business.
Do collect Google reviews from your customers as well. This will include answers to potential questions future customers may ask.
Product Listings
If you are a product-centric business, Google My Business offers new features on shopping, where your products can be placed and that links to the page in which the items are sold.
Using the example of SG Hearing Solution, users can view all available products based on the category on its Google My Business profile.
After selecting a product, users can find out more about the product and how it functions.
The product link to the website (with proper set up) could also be found on that same page.
So, if the customers would like to have more details about that product, they can find out through the link.
And the business can share more about the products and itself.
Keen for new followers? Thinking about a new promotion?
Have a few welcoming offers and convert your visitors to followers.
Continue with good quality content and posts (working with SEO), and you are on the way for more organic traffic.
This builds trust, credibility, and consistency, which eventually leads to referrals and higher quality leads.
Shortname
Impressive storefront, convenient location, fast website are definitely good for building the brand.
But your website name is still as long (for some). And Google has added the latest shortname feature with its 'g.pages' in GMB.
With the shortname, users can look at your business easily and decide whether they will give it a go.
The value surfaces when users key in their shortname – lesser alphabets to key in and more information that helps with brand recalls.
Imagine this:
'Thinkingnotes' + '.com' – takes additional 4 actions before you key on the website and to associate your brand identity.
'bit.ly/' + 'SEOthinkers' – takes an additional 7 actions
'g.pages/' + 'thinknotes' – take additional 8 actions but shows live reviews, real-life pictures, more different forms of information to engage your clients. That 3rd party information presents the facts of a strong trait of a good quality prospect.
GMB has become more than just a way to get accurate information and marketing research from the usual search results.
It could potentially be a local "engagement platform", which increasingly generate high-quality leads, engaging with better context and sound transactions.
Below is an example of a shortname on a GMB profile would look like.
As specified, the shortname can be changed 3 times per year.
Conclusion
If you are serious about improving your local SEO, Google My Business is something you should not avoid.
Do take the time to learn how to create and maintain a Google My Business account.
Please feel free to contact us if you need help in regards to SEO for your website to work better with Google My Business.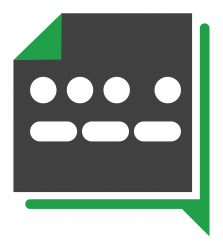 Latest posts by Thinking Notes
(see all)